The 4th of July is over a month away but Marina and the Diamonds and Lady GaGa have already worked patriotism chic to the max.
High street stores have now jumped on the Americana trend wagon and the good news is that it is a look you can pull off with minor bank balance damage.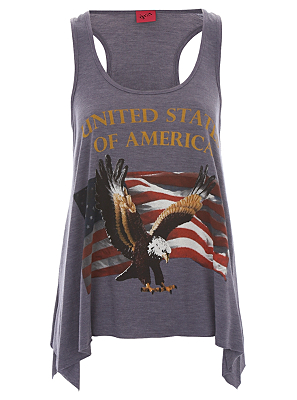 This slouchy vest top from George is a bargain for £8 and after teaming it with a pair of your best Daisy Duke's you will want to host an Independence Day BBQ of your own. 
For those who want to add American sparkle to their night-time look why not head down to Accessorize and buy this sequin flag clutch for £30. Keep the colour scheme going with a touch of red lipstick